1890-1900 An up and down time
Feature by Tony Scholes
Updated Wednesday, 7th September 2005
The final decade of the century was to provide the Burnley supporters of the day with hope and expectation before we had our first disasters since the formation of the League.
After the less than successful 1889/90 season things really started to look up in the first part of the 1890s and we started to move forwards and won places higher in the league. In fact as each season was played we climbed one place, from 8
th
in the 1890/91 season to a lofty 5
th
in 1893/94.
It was in an ever changing league that saw new teams come in, and such was the success of the new venture the league was extended by two to fourteen for the 1891/92 season, and by a further two in the following season, that coming with a second division of twelve clubs.


In four years the league had extended from its initial twelve clubs to twenty-eight and Burnley were pushing up towards the top. Towards the end of the 1890/91 season we recorded our first league victory against Preston, who had won the league in its first two seasons.


They still finished a credible second and the 6-2 defeat at Turf Moor cost them. Tom Nicol got a hat trick on his debut. He had been signed to replace leading scorer Claude Lambie who had moved up to Scotland.


If beating Preston was good news there was even better to come later in the year, in fact just two weeks before Christmas when we beat
Blackburn Rovers
for the first time in a league game. The names of Nicol, Billy Bowes and Hugh Galbraith should be in any hall of fame, they scored our goals in a 3-0 win.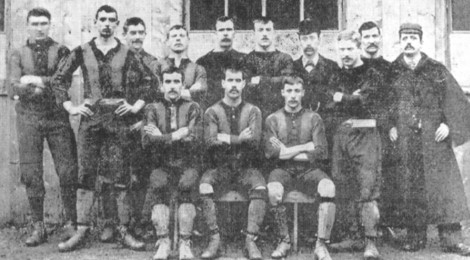 The Burnley team of 1893
It wasn't just the league that was changing, life at Turf Moor took an unexpected turn in the summer of 1893 when we appointed the club's first ever manager. Club secretary Arthur F. Sutcliffe was the choice and he would have the say on who played in the side, whereas previously committees and the club's board had made those decisions.
Burnley's team had for some time included a lot of Scotsmen but Sutcliffe wanted to nurture local talent and to see a team of Burnley lads representing the club. His start to management was successful and we climbed into the top three ahead of Christmas and beat our local rivals again the day before Christmas Eve in front of a bumper crowd.


We weren't able to sustain it though but the one place climb continued and we recorded our highest finish yet of fifth but things started to slide in the following season and we found ourselves dropping back into the bottom half.


The summer of 1895 saw Burnley at the forefront of English football when we sold James Crabtree to
Aston Villa
. We weren't able to match his wage demands so Crabtree moved on and his move proved to be a success with Villa winning the league in the next two years.
Burnley certainly were nowhere close and after another disappointing season Sutcliffe was replaced by Harry Bradshaw who had previously replaced him as secretary. If Sutcliffe had not brought about any success, Bradshaw was to bring disaster and in his first season in charge Burnley suffered relegation for the first time ever.


That meant the 1897/98 season was spent playing the likes of Burton Swifts, Gainsborough Trinity and Newton Heath (they were a nothing club with a nothing name then). It was to be a good season though and we finished three points clear of Newcastle at the top of the league.


That did not win us automatic promotion disappointingly, someone had come up with a play off idea and they called them Test Matches. They were played in a round robin with teams at the bottom of Division One and with one game to go we were left needing a draw against Stoke who also needed a draw to stay up. It all ended 0-0 and that in particular upset Blackburn who through that result were the club relegated.


They were making accusations of cheating, yes they were bad losers even then, but ironically they were rescued by our former manager Arthur Sutcliffe who had become a member of the Football League Management Committee and proposed a further extension of the First Division to eighteen, and that allowed them to stay up.


It also brought to an end the test match system but that wasn't to worry Burnley in the following season as Bradshaw's men had their best ever finish of third. We were some way behind the top two of Villa and
Liverpool
but the suggestions were that under Harry Bradshaw we were a team on the move.
Bradshaw certainly moved and in the summer of 1899 was poached by London club Woolwich
Arsenal
. He was to have great success there but for Burnley and new manager Ernest Magnall things were only going to get worse.
Magnall arrived from Bolton where he was a director, so the appointment was akin to perhaps John Turkington or Clive Holt now going the other way to replace Sam Allardyce. By the turn of the century we were heading downwards towards another relegation but there was a special day just before the supporters of the day prepared to sing Auld Lang Syne.


In the very last match of the 19th Century we beat Glossop North End 3-1 home with Edgar Chadwick scoring all three, just as a certain player did 100 years later. Chadwick was no natural born Claret though (or whatever colour we were playing in at the time), he was a Blackburn lad.


It was hardly the start to the new Century that Burnley supporters were looking for and Magnall would have much to do to win over the passionate Turf Moor crowd.
Interact with us