Clarets, Cows and Cockatoos
Feature by Dave Thomas
Updated Tuesday, 5th March 2013
Back from Oz. While we were away there wasn't a win and the angst on Clarets Mad made for drab reading.
The internet makes the world a small place. Communication and news is available in seconds. It's a miracle of the modern world. Fine when there's good news, not so good when there's none.
The arrival of our luggage at Sydney airport was also a miracle.  12,000 miles, two aircraft changes and one terminal change. And there it was on the carousel. The first leg of the journey was by BA to Heathrow, two names to strike terror into the heart of any traveller.  
One other thing was a bit of a worry. The area around Sydney is the home of the dreaded Funnel spider. These are nasty things with bites that can kill. You know you're in trouble when one stands on its back legs and glares at you. Ranking on the horror scale along with these vicious spiders the Huddersfield game sounded like it was up there with one of the worst ever. I got up early and followed it on Sporting Life and wished I hadn't.  Burnley 0 Middlesbrough 0 sounded dire enough and comparisons were being made with the latter days of the Cotterill reign.
When we went away there were two possibilities… that we'd win games and keep up the top six possibilities, or not win any and slide out of contention. This is Burnley we're talking about and I should have put money on the first.
It was Terry Ridout who conjured up the title for this piece. The middle bit of the Australia venture was spent in Tasmania so as to meet up with two Clarets. Chris Watson lives near Hobart up a creek…Carlton Creek. The terrible bush fires that raged a few weeks ago out there came within a mile or so of his home. We saw the miles and miles of scorched earth and the dozens of burned out homes. It was horrific and the devastation made football and moaning about the Clarets seem trivial. Chris who spent one night on the roof his house with hosepipes at the ready originates from the Skipton area.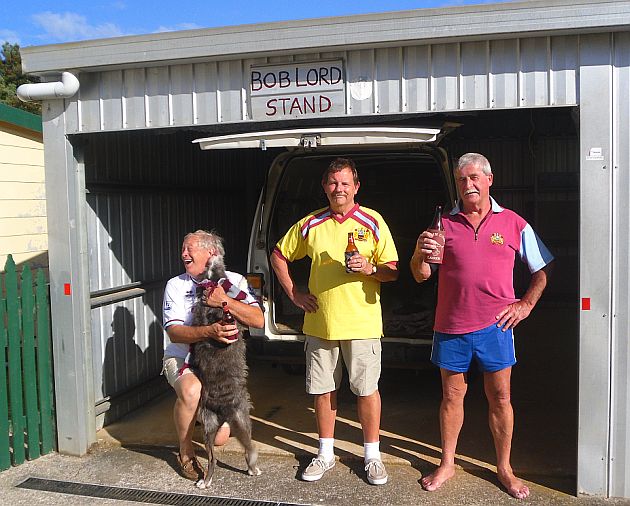 The three amigos plus Smoky meet in Tasmania
Having written about the visit to see Chris on the web we accepted the invitation to travel from one end of the island up to the other to visit Terry and Trish Ridout at Nabageena up in the north.  In case you don't where it is, it's near Edith Creek and Roger River. It was a ten hour drive journey but was slow and leisurely with breakfast, coffee and lunch-stops and viewpoints along the way through miles and miles of forest and mountains, eventually reaching the beautiful northern coastline. 
Terry and Trish live in cow country, dairy cows, in an area that's not unlike the Yorkshire Dales minus the limestone. Cockatoos screech in the trees around them. Bright Fairy-wrens flitter about in the garden. Clarets, cows and cockatoos… the perfect summary of the flying one-night visit spent supping Terry's fine homemade beer, a huge dinner, and then a gargantuan breakfast. Hanging from the barn was a claret flag and on the gate post a claret beanie hat. Terry was in his ancient Burnley shirt. It turned out the Bolton Burnley game had been live on Setanta out there and I'd missed it but can't say I was sorry.  A wooden sign was nailed above the barn door THE BOB LORD STAND. All this was on the other side of the world to Burnley. It was quite surreal looking round Trish's house and seeing pictures of Todmorden up on the walls, the same pictures I have on my walls. Then it was at dinner that Terry said something that had me almost falling off the chair. 
"I used to work for Bob Lord," he said quite casually.
My ears pricked up.  He features large and loud in the Jimmy Adamson book. What are the odds of meeting someone who used to work for Bob Lord on the other side of the world in Tasmania? Anyway, Terry remembered that there were windows in his office through which he could survey the shop-floor and what the workers were getting up to. He had the eyes of a hawk and would race out to berate Terry if he left too much meat on a bone.
"THERE'S TOO MUCH MEAT ON THEM BONES TERRY." Terry didn't say if he was scraping the meat off to make pies, or gnawing on a bone for his lunch.
Actually Lord Bob didn't make pies and was most indignant when he once received a letter from an angry supporter furious at the sacking of Jimmy Adamson. The letter amongst other things described Lord as a 'pie maker'. Lord wrote back angrily to say that he had never made a pie in his life. And it wasn't a butcher's it was THE MODEL MEAT FACTORY he always proudly insisted.
Terry said that Lord didn't so much speak to you as bark at you.  "Terry do this or do that." They all wore white coats and a white peaked cap and woe betide them if they turned the peak of the little cap upwards. Lord spent a large amount of time on the phone which being deaf and wearing a hearing aid must have been a bit of a problem. Sometimes he'd hold the phone away from his ear, look at it askance and bellow OW MUCH! Behind him on the wall was a large portrait of Winston Churchill and he'd smoke Passing Clouds (a popular and expensive ciggy of the time). 
Monday was pig day and Terry seemed to think they came from Norfolk and Wrexham. It reminded me of legend Brian O'Neil who had an allotment and raised a few pigs.  He continued to do this at Southampton when he moved there and once drove to training straight from the allotment on a tractor and in his wellies. Perhaps this love of pigs was the bond between Lord and O'Neil and Lord always said O'Neil was his favourite player and never wanted to sell him. Anyway, Tuesday might have been lamb day and they came from New Zealand. Another day would be beef from Argentina. Another day might be sacking someone.
Anyway hearing all this in the unlikeliest of places, whilst cockatoos and parrots were screeching about outside, Smokey the dog leaping up licking your face, located out in the boondocks (beautiful as they were), and another beer going down nicely, it all seemed quite surreal. You travel 12,000 miles and meet a man who worked for owld Bob - bizarre.
Terry wasn't there too long and then became a Burnley policeman often on duty at the ground. His most vivid memory is the sight of hundreds of Everton supporters all lined up against the back wall of one of the stands all taking a half-time widdle. Funny the things we remember.  
Back in Manly, gorgeous place and fabulous beaches, the 4 Pines became our 'local'. Got to admit I'm not the most enthusiastic beer drinker in the world, though Terry's was pretty good but the 4 Pines was a homely, welcome place. It was across the road from one of the beaches with big long wooden tables and had its own mini brewery the other side of glass windows. It served good grub; the burger was about a foot thick with chunky chips to die for. The clientele was mostly the young and beautiful, the fit and healthy; the tanned and muscular, surfers, backpackers, and crocodile tamers. The long, leggy, bosomy girls were mostly called Shelagh, and the blokes with wide shoulders and trim waists (just like I used to be) were called Bruce or Shane. An occasional one was called Snake. You could tell who they were 'cos they had leather hats trimmed with snakeskin and you could see the bites on their arms. I swear I tell the truth when I actually saw a bloke with a wide hat with corks tied all the way round the brim. Bill Bryson once said Australia was just Baywatch with cricket. When you looked round the 4 Pines it did indeed look like the girls had just stepped off the Baywatch set.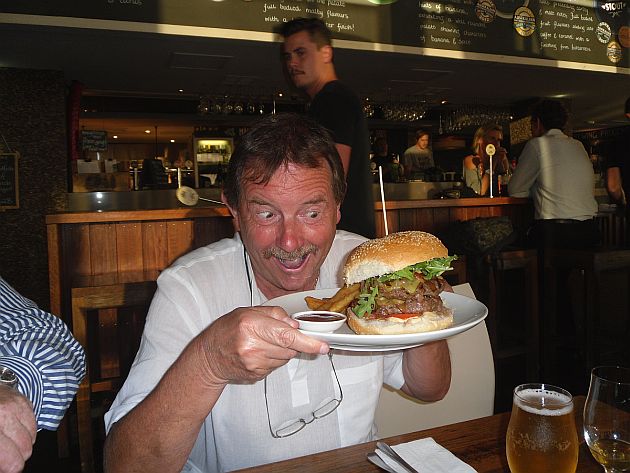 Food is of a high quality in Australia
Anyway, there we were one late afternoon after a day on the beach and our pal Richard was off the ferry from work in Sydney. So we all joined up and Richard shouts from the bar, "Waddya drinking Dave?" Alas it prompted huge embarrassment. By now I had a deeply tanned face, made my shoulders look as wide as possible, looked in pretty good shape, and felt quite at home in this macho world of physically perfect surfers and lifeguards. This was the day though that I didn't fancy a beer but felt slightly queasy about ordering a schooner of sherry or a glass of milk in this place of bulging muscles, bench press-ups and squat thrusts.
"Aw I'll 'ave a shandy," I called back to him from across the room.
I swear the room went silent. Waiters stopped for a Nano-second in their tracks, these gorgeous girls stared at me, the lifeguard's mouths dropped open, blokes dropped their surfboards, and the barman looked shocked. Even the cockatoos outside stopped squawking. Richard muttered 'he's English' to anyone close by. It was clear I'd become the centre of attention and I had to think fast.
"A shandy - it's what lumberjacks drink," I shouted across the room.  
"Yeah right," drawled the barman as the 4 Pines returned to normal.  Don't care what they thought, it went down a treat - and so did the burger.
Tell you what: going away for February sure passes the winter away. Our friends' apartment was right by the water. One hop and you were out on the lawn; a hop and a skip and you were in the pool; a hop skip and a jump and you were in the sea.  Mind you the minute I heard about these X certificate spiders I stopped hopping across the lawn barefoot. Just a few yards away in the rocks a small group of Little Penguins hung on to survival against all the odds and boat propellers. We glimpsed them twice at dusk leaving the water and heading for their little burrow, little shadowy shapes only about a foot tall. Manly is one of their last breeding areas. Great lizards, 'Water Dragons' sunbathed on the steps and rocky ledges. Crimson Rosellas (posh name I suppose for a parrot) climbed up and down the trees that overhung the garden.  Ferries, yachts, kayaks, swimmers in training ploughed by. We got the ferry into Sydney several times for the 30-minute journey. Sydney Harbour Bridge dead ahead and the Opera House close by on the left. I wore the sacred Burnley shirt on one trip in to the city wondering if anyone would recognise a fellow-claret. No-one did although only his work arrangements prevented a meet-up with Paul (aka Shanghai Claret) in Sydney.
And through all this, Burnley couldn't get a win for love or money. Forgive me dear reader but was I bovvered?   I was not.
The next miracle awaited us back in Manchester. The luggage was there. The next day Burnley were away at Charlton and once back home I did care whether they won or not. Dyche's comment that "they needed to get back on the horse" was up there with the blessed Stan's pearls.  The poor run in February saw an end to any realistic top six hopes. Just one more win would surely end any talk of flirting with the bottom three.  Gotta say that going away in February was brilliant; not only did we miss the drab weather but also a drab and stuttering Burnley. And the luggage didn't go missing - I'm still so impressed at that. 
Interact with us